Gas and liquid holdup
Measurement of time-averaged gas or liquid holdup in a multiphase flow
Needle probes are a cost-effective, robust alternative for gas and liquid holdup measurements in pipeline systems and process vessels. With HZDRI needle probes one can simultaneously measure holdups and fluid temperatures in several locations in hydraulic systems. The additional information on fluid temperatures allows for instance to discriminate thermodynamically between condensable and non-condensable gases in thermal fluid dynamics investigations. Beside a fast data acquisition our competencies are in technology of long-term reliable pressure and temperature tight sensors.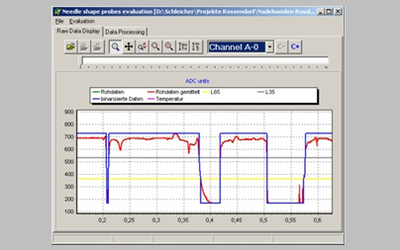 Application examples for needle probe sensors are thermal hydraulic test facilities as well as industrial plants in power and process engineering.
Further information and publications on the application of needle probe sensors can be obtained from the web site of Helmholtz-Zentrums Dresden-Rossendorf.