Detection and measurement of micro-bubbles
Optical micro-bubble and particle analysis
For the detection and analysis of small particles and micro-bubbles in fluid flows our process microscope is well suited. Thanks to its fast flash exposure it can provide sharp shadowgraph images of the flow within a given measurement slit even at highest flow velocities. From the photographic images gas and particle holdups as well as particle or bubble size distributions can be extracted by image processing algorithms implemented in our process microscope software. Such parameters are essential, for instance to assess residual gas fractions in processes with gas dissolution, for the characterization of gas injectors, analysis of cavitating flows, emulsions, suspensions, crystallization or precipitation processes. In combination with a proprietary cooling concept our process microscope is suited for harsh process conditions up to 250°C and 10 MPa pressure.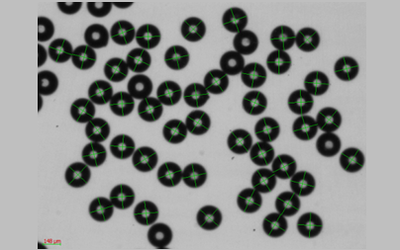 The HZDRI process microscope could already be successfully employed in oil hydraulic systems and wet gas pipelines. Also for the analysis of particulate flows we have comprehensive experience.
Further information and publications on the application of process microscope systems can be obtained from the web site of Helmholtz-Zentrums Dresden-Rossendorf.