Wire-Mesh-Sensor
Visualization and analysis of two-phase flows
Wire-mesh sensors are imaging instruments for the analysis of gas-liquid and liquid-liquid multiphase flows. They combine a robust design, secure phase discrimination and ultrafast measurement. Wire-mesh sensors allow you to visualize and measure transient flows with unprecedented frame rates of up to 10,000 images per second and up to 2 mm spatial resolution and thus to disclose even the last unresolved detail of your flow problem.
Wire-mesh sensors measure characteristic multiphase flow parameter by a grid of fine wire electrodes in the flow cross-section. The wires are very thin, typically 0.25 mm. Thus the sensor generates virtually no pressure drop. Usually, wire-mesh sensors are operated in pipes or columns. But special designs also allow the investigation of other flow cross-sections. If round or square, small or large – wire-mesh sensors offer all the required flexibility.
Wire-mesh sensors employ an electrical measurement principle for the differentiation of the individual phases in the flow. By choice between conductivity or capacitance measurement scheme you may analyze virtually any solids-free type of multiphase flow. Examples are water-gas, water-steam and oil-gas flows.
You can get our wire-mesh sensors according to your process specifications in three different classes. Series S is the standard version for operation close to normal conditions. Series H has a higher pressure and temperature resistance. Series E is made for extreme operation conditions. Further specifications you may find in the table below.
Data acquisition is realized by separate measurement electronics, which is offered in three different variants concerning the usable wire-mesh sensor size. With the electronics you can stream measurement data from the sensor directly in an on-board memory at full speed (maximum acquisition time is 60 s). Further you may be provided with an online data view at reduced acquisition speed. The data, which is saved in binary format, can then be processed either with your self-developed software or using our WMS FrameWork for extraction of important flow parameters, such as gas holdup profiles, bubble sizes or disperse phase velocities.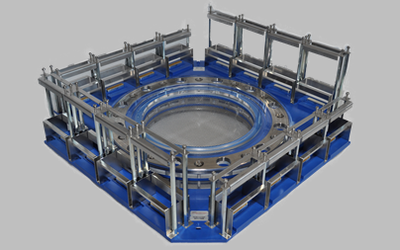 Technical data:
Spatial resolution:
~ 2...3 mm
Temporal resolution:
up to 10.000 frames per second
Electrodes:
stainless steel, 50 μm ... 250 µm
Flange material:
stainless steel, PMMA or PVC
Operating conditions:


Series S
up to 2 MPa, 120 °C
Series H

up to 7 MPa, 240 °C

Series E

up to 10 MPa, 300 °C

(pressure test certificate upon request)

Data acquisition:

Wire-mesh sensor electronics

(configuration 32x32, 64x64 or 128x128)
ATTENTION: All sensors are manufactured on customer specification. For enquiries please use the PDF request form below.